I first came across the idea of environmentally friendly sanitary care back in the 1990's via the Women's Environmental Network. They had a nifty sewing pattern to make simple sanitary pads using a plate as template. The idea stuck in my head but it was when I was on a six month trip to India and ended up spending great chunks of it wild camping in the tribal heartlands of Orissa and Madyhur Pradesh
READ MORE
Behind the Scenes of our Period Drama film
Mooncup Ltd
Period Drama: A Day on Location
It's incredible what it takes to produce 1 minute and 15 seconds of film.  St Luke's ad agency's formidable work of storyboarding, casting (both human and equine!), wardrobe, location scouting, and gathering a cast of crew of 38 is done. There are drones, quad bikes, steadicams, and not just horses but horse doubles and stunt riders- the stuff of fantasy for a film lover like me!
Su (Mooncup founder) and I arrive at the beautiful Cowdrey Estate at 8.30 in the morning, ready for a long day of work that at times is set to definitely feel more like play.  It's August 2015 ( I know, a conspiracy of factors has delayed us being able to share this little gem for way too long, though that's another story…).
It's great to finally meet the lovely lead actors Nico and Augusta in the flesh, as well as their horse handling stunt doubles! So many interesting tales to share that have brought us all together for this unusual project!  The location is a captivating part of Sussex- a treasure to discover, and it's not long til we're off to a hilltop on the South Downs – the director, Sye and his crew with their eyes to the foreboding British skies.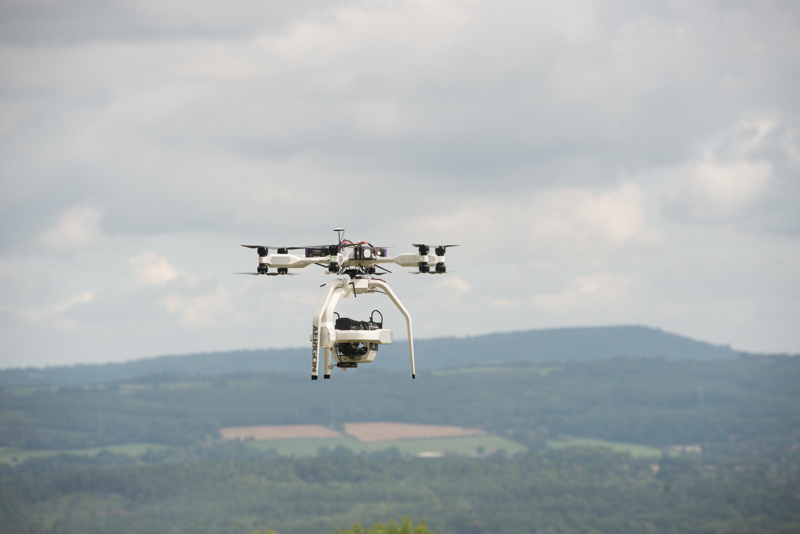 Tracking shots trace the stunt riders from a quad bike- gone are the days of having to lay tracks. An enormous drone is laden with its cargo of valuable camera equipment. Its pilot wields a remote control that's the envy of us all, though it's too unfathomably expensive for us to have a play- the first aerial shots are being taken.
There are two horses on set throughout the day. They're an inseparable pair and get flighty when made to be apart.  Their magic fraternal bond adds an extra challenge to the handler as well as to the director and cameraman-  many a shot frames one of the horses, remaining still only because his brother is just off frame!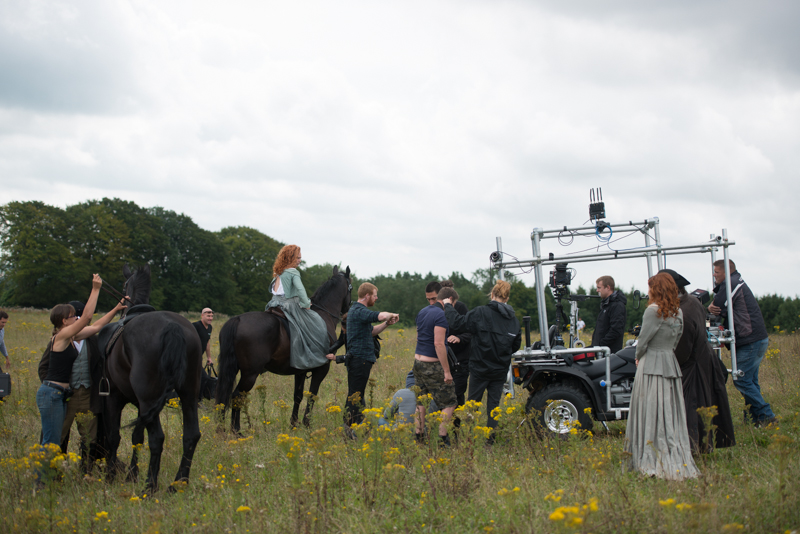 Then the British skies turn- first to a wondrous, epic turbulence, fitting for the tale- and then open, torrentially, grounding the drone and any hope of further aerial shots from the storyboard. Flexibility- not just when working with kids or animals, it seems, but equally with the British weather- is the name of a film crew's game. With the budget limits of a small business manufacturing a product that's a one-off purchase, too- there's no hope of postponing the shoot- we carry on with what we have and forge on hopefully!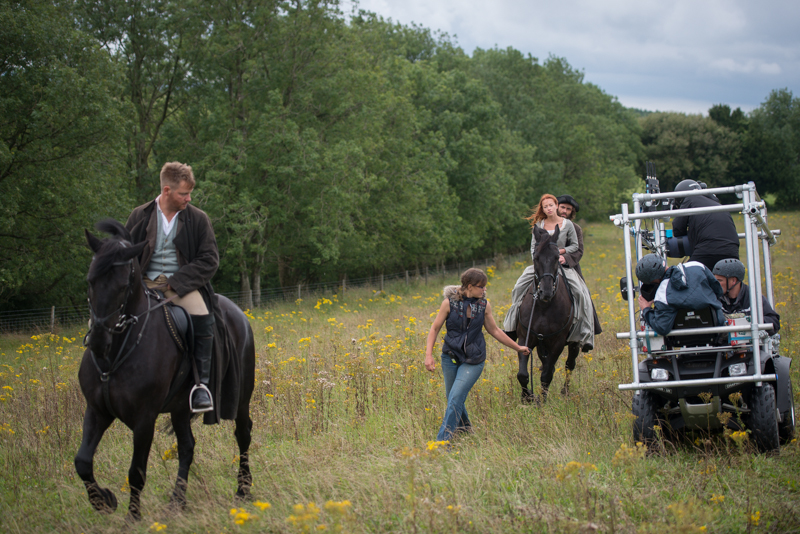 Su and I join the cast and crew to shelter, warm up a bit and enjoy a communal lunch in the estate hall- a chance to chat animatedly with new folk and see the rushes from the morning's shoot. It's a thrill to see it all start to come to life.
The afternoon is spent in Surrey heath and woodland. Huddled round the monitor under a gazebo mid the glorious heather, we watch our stars in action as they trot beneath the dripping trees.
They both ooze magnificence, rather than the damp reality of muddy feet and sodden clothes.  Augusta dons a shower cap to keep off the rain between shots (the glamour of it all!).
We're after a product shot on location, so the photographer and I do our best to position Mooncup boxes with cold, wet hands among the moist heather while several helpful crew members hold umbrellas over us, struggling to wipe persistent raindrops of the lenses and the packaging!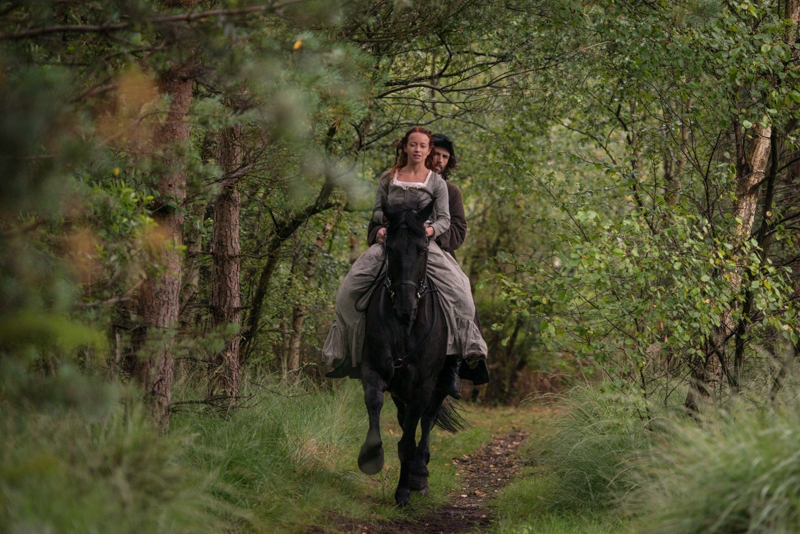 By the time we make the petrol station forecourt, after a lovely breather in the horse wagon, day has turned to night and improvisation way off the storyboard continues. Nico, Augusta and Jeremy are consummate professionals- happy, persistent, attentive- lovely to work with as are the Apostle and St Luke's crew. There's a huge sense of camaraderie and collective vision that's been invoked through the day. It's maybe even stronger thanks to the adverse weather- we all have one goal in mind!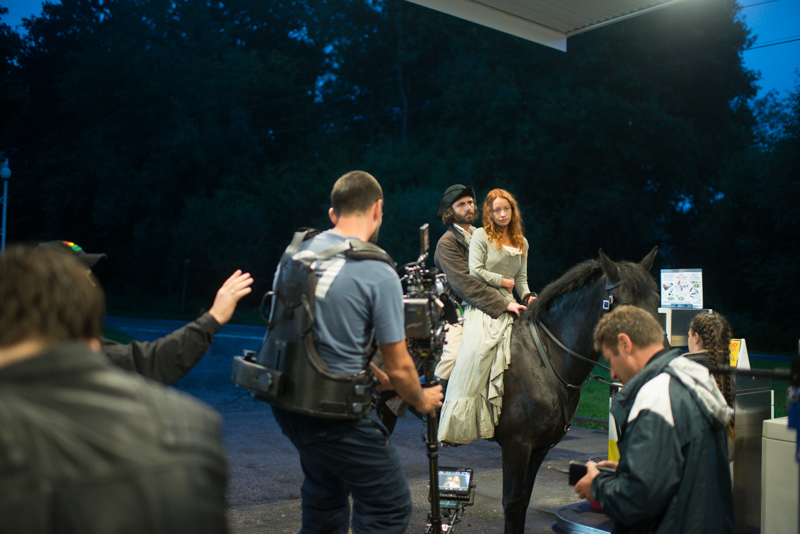 Back under the gazebo again we munch on sandwiches and laugh at the antics of the horse handler who must now lie on cardboard at the feet of her charge, whispering words of encouragement to keep him at the pumps while the mounted Augusta directs Nico to the tampons. It's not only the humans that are getting cold and tired…
A few more shots and it looks like we've captured the last take we need: it's a wrap! Relief, a grateful bond of friendship with the crew and stars for a day's hard work well-done and a smattering of real joy!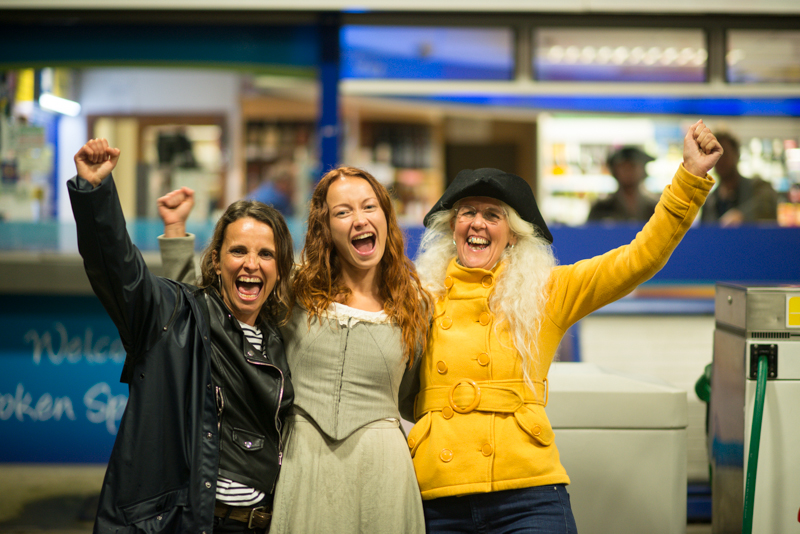 Next- editing, laying the soundtrack and above all….what will viewers make of our latest flight of fancy?! Check it out and let us know what you think!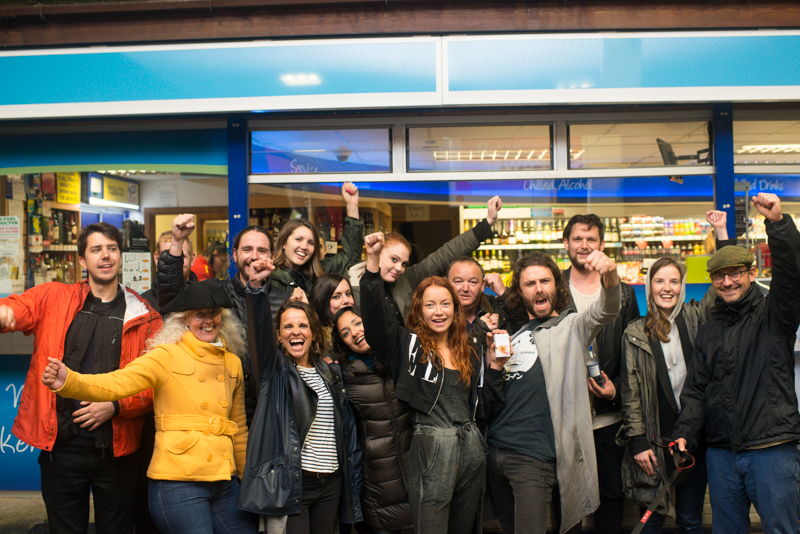 Watch the film now
Read more on the MCUK Blog
Mooncup launches Period Drama
Find out more about the real drama behind disposables